Writing & Learning Bundle Giveaway: Software & Courses
---
May 1

Contests & Giveaways
---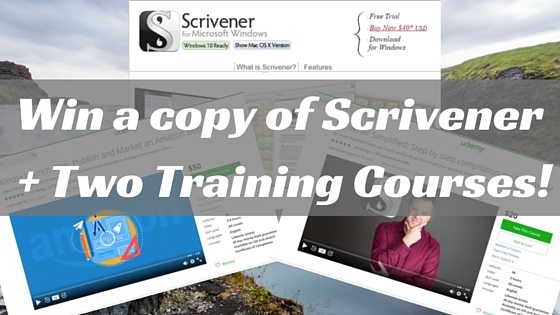 ---
Win this Awesome Writing & Learning Bundle: Software & Courses

Author Stash Writing & Learning Bundle Contest – Scrivener & Courses!
Hey Authors, Writers, Indies & Self Pubbers! We have another awesome giveaway for this month (worth over $225) for the lucky winners (2 winners).
The Prize
The prize is sure to make you a Rockstar writer with near superhero status. You'll be able to leap over outlines in a single bound, format faster than a speeding bullet and melt Kindle sales with your mind.
Does this all sound too good to be true? It's not, not with the resources we're giving away this month!
Here's what you'll win:
Free Training Course: Learn Scrivener with

 

Scrivener Simplified (This is the highest rated Scrivener course on 

Udemy)

Free Training Course:

 

Kindle Launch Plan

 

by Nick Loper of Side Hustle Nation
How can all these prizes make you an indestructible writer?
Sometimes the evil Blank Page threatens to suck every ounce of creativity from your mind. This super-villain will lurk, unassumingly, waiting for you to open your binder, Word document, or Google Doc – whatever you currently use.
That's when he'll pounce. With a mocking laugh, his blank white face glowing in the darkness, he dares you to start typing. "Write your outline!" he'll taunt. "I dare you to write your first paragraph." He hisses.
Something.
Anything.
Nothing. He has already won before you start. It's hopeless – or so you think.
There's hope and we're giving you that hope this month in the form of writing software and digital courses on Udemy.
What is Scrivener?
Scrivener is a powerful content-generation (and outlining) tool for writers that allows you to concentrate on your creative outlet – writing – and not on the details of formatting and structure. Scrivener is designed by writers, for writers.
Its goal is to make it easy to control the formatting and get to the end of that awkward first draft. It does this by taking the tool out of the picture while you write by making it easy to organize your thoughts and write your book.
Scrivener is a downloadable software that's available for both Windows or MAC computers. Normal retail price for this awesome software is $40 for a "family license".
That's like asking why Superman and Batman had to train and practice… because it makes them stronger!
Scrivener is easy to use but is incredibly powerful. With the power comes some level of complexity (and, as they say, responsibility). Much like other well-known office productivity software, users rarely know or utilize it to the full potential.
If you want to take your writing to the next level you need next-level understanding of the incredible software. Scrivener Simplified is the training that helps you unlock that superhero potential buried within the software. Learn how to harness it and you can save the world from what would have been mediocre prose.
This training course is normally $20.
What's so great about Nick Loper's Kindle Launch Plan Udemy Course?
Now that you have unlocked the power of Scrivener and yourself what should you do with it? DO GOOD WITH IT!
The best way to do good with your power is to write a compelling book and publish it for the world. Nick Loper's Kindle Launch Plan will take you through the steps required to format your book and get it loaded on Amazon.
Then comes the all-important launch – this is what can propel your book from being just another "cover in the crowd" to hero status. Nick's course is normally $50!
Then you can destroy Blank Page over and over again. You win!
Enter Now!
Get the chance to win the entire bundle and see your book sales (and income) fly to the moon. Enter now, and share, for more chances to win!
I've added a new way to get entries this month – comment and rate any resource on the Stash and you can an extra 4 entries.
Author Stash is a user-ranked directory of tools for authors. As such we want you to rate and review any resource or tool that you have used. This helps others know if it's worth their time. Leave a good comment (not just a word), provide the link and we'll give you 4 extra entries to win this Super Bundle!
For example, if you've used Scrivener in the past you could go to their listing, add a comment and rate it. Then just provide the link on the entry window and BOOM, you get four extra entries.
Refer to the window above for contest end time. Maximize your chances of winning by using the various entry options above!
We hold monthly contests to promote the different resources on Author Stash. Occasionally we will run successful promotions more than one time in a given year. Check our Contests & Giveaways page to see what we've given away in the past and what is currently active.
What do you think?
I found Scrivener and these courses to be the most recommended on different forums, on social media, on Reddit and within other author groups. What do you think? Leave a comment below or find the resource listed on Author Stash and cast your vote. Let others know if it's worth their time!
Bonuses & More Bonuses!
As a bonus for EVERYONE, Udemy is running a 30% sitewide sale on courses through May 15th, 2016. So, even if you don't win this contest you can still get in on this deal from Author Stash. What do you want to learn today? Udemy has thousands of courses… now 30% off!
Just think… you could get 30% off of
Think of what you could do with the knowledge you'll gain! (if the discount isn't automatically applied please let me know and I'll send you a special discount code).
Good Luck!